As the twentieth century progressed the expansion of rail and the introduction of an electric tram network networks led to a greater choice of  trips beyond the city. Pictured below is an early 1910 motor charabanc or bus outside the Tourist Bureau in King William Street. The Bureau led the way in using motorised vehicles for excursions. With the introduction of motor vehicles, roads improved. By 1910 , horse and carriage trips were being replaced by motor cars and guided charabancs tours.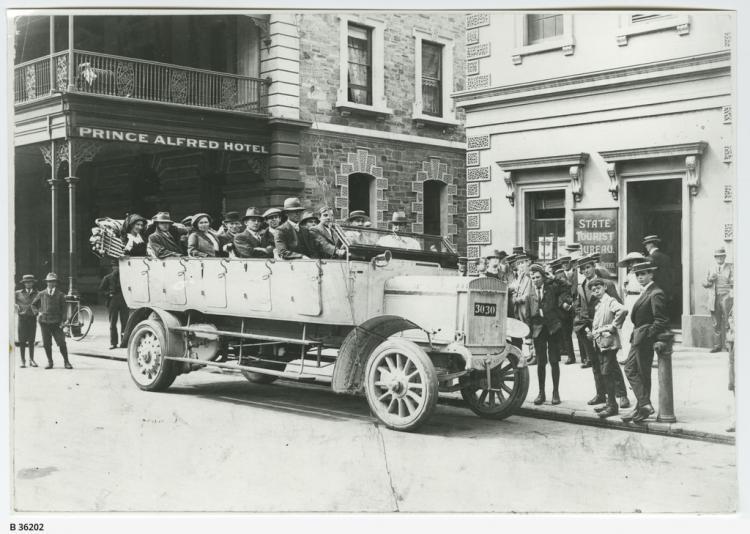 Destinations further from Adelaide soon opened up as private operators realised that there was money to be made from tourism, especially in transport and accommodation.
Coastal steamers carried passengers to and from Perth, Melbourne, and Sydney. Steamers could be privately chartered but by 1910 regular local travel was in place. Small steamers travelled from Port Adelaide to towns along the coast. Destinations included Stansbury, Ceduna, Port Lincoln, Wallaroo, Port Pirie, Port Augusta, and Kangaroo Island. Aeroplane travel was out of reach for most but for those who could afford it, sea and river travel were early options. River travel for leisure became increasingly popular. The wood-fired river steamer Marion was one of the first paddle steamers to run cruises on the Murray River. 
South Australia's early tourist industry expanded rapidly between the wars. State and interstate travel increased. Holidays away by car, bus, train and boat were now within reach. Family camping and caravanning journeys provided low-cost escapes. Organised sightseeing trips by bus became popular. Excursions to places of local interest were organised. Hotels and guesthouses provided a wide range of accommodation.
Posters, brochures, postcards, and newspaper articles advertised South Australia's many desirable destinations to attract visitors from interstate and overseas. Tourism flourished and for a time,  any time really was holiday time.