The COVID19 pandemic has been especially hard for millions across the world who have been separated from the people and places they cherish. This article looks at some of the items in our collections that reflect Christmases spent far from home.
Let's start with this 18th century lithograph titled 'The Ice Islands'.
Cook's 1773 voyage in which he eliminated the possibility of Great Southern Land, drawn by William Hodges from: Cook, James A voyage towards the South Pole, and round the world : performed in His Majesty's ships the Resolution and Adventure, in the years 1772, 1773, 1774, and 1775 London: W Strahan and T Cadell , 1777
William Hodges joined James Cook's second voyage of discovery to the Antarctic region as artist and draughtsman in 1772. Cook hoped to explore higher southern latitudes than he had on his first voyage (1768-1771) and to confirm the existence of the hypothesised great southern land.
On 9 January 1773, being short of water, Cook ordered the crew to collect water by chipping blocks off the freshwater icebergs. Hodge depicted the scene. Cook recorded that the crew
"in about five or six hours, took as much ice as yielded fifteen tons of good fresh water. The pieces we took up were hard, and solid as a rock; some of them were so large, that we were obliged to break them with pick-axes, before they could be taken into the boats."
(Cook, vol. 1, p. 37)
By mid-December of 1774 the expedition was off the coast of Tierra del Fuego en route to Cape Horn. On 19 December Cook sailed into a large sound. Within it were numerous small harbours and several islands which Cook charted. He named the place Christmas Sound. The crew collected wood and water. They also found wild celery which could help prevent scurvy, and flocks of wild geese. The explorers were able to celebrate Christmas with far better rations than salt beef and pork.
After almost three years exploring the higher southern latitudes of the Antarctic region, Cook turned for home. He reached England in July 1775, having eliminated the hypothetical great southern land from the world map.
It isn't only explorers who spend Christmas far from home and familiar things. The Library holds an unusual artwork painted by one of South Australia's first British settlers. This is a gum leaf painting of the historic Old Gum Tree at Glenelg. The arched tree is shown surrounded by huts. It was created at the time of the South Australian Proclamation, 1836. The artist is unknown but believed by archivists to be either Mary Hindmarsh, daughter of South Australia's first Governor or Jack Balitho. (see Old gum tree at Glenelg)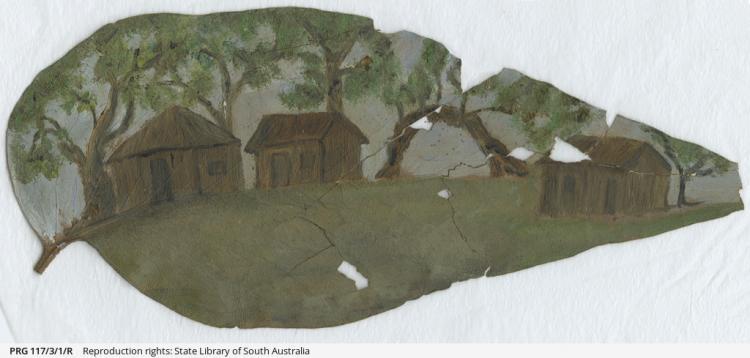 Christmas at Glenelg, painted on a gum leaf. SLSA: PRG 117/3/1/R  
The image is hand-painted in colour, directly onto the gum leaf support. Brushstrokes and marks are visible. A verso inscription on the leaf, written later, says "Christmas at Glenelg, 1836, three days before the state was proclaimed" on 28 December.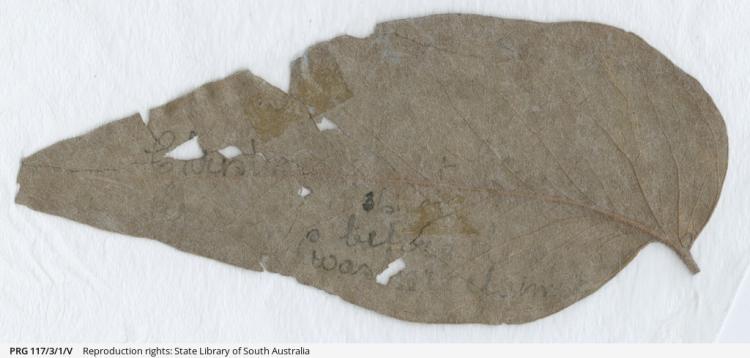 Reverse of Christmas at Glenelg, painted on a gum leaf. SLSA: PRG 117/3/1/V
Following conservation, the gum leaf, showing the painted side, was mounted on a tissue support on mat board. A black and white photograph of the verso is included in the housing. The envelope in which the gum leaf was donated has also been retained. It is addressed to Mr M. S. Fisher, c/- Advertiser, Adelaide and postmarked 24 August 1949.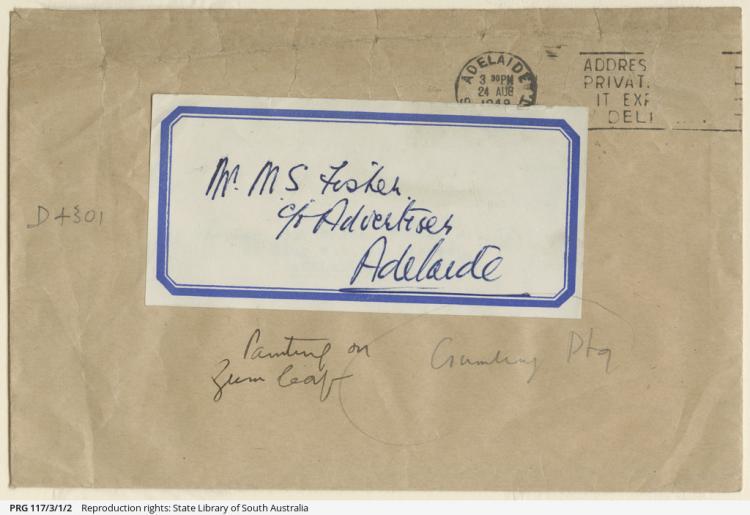 Some decades later, after Adelaide's population had grown large enough to require two gaols, an inmate at Yatala Labour Prison, produced this image of a Christmas entertainment at the prison in 1877. It shows a 'comic' reading by an inmate. Yatala was designed for hard labour with all its accompanying severity and held close to 300 inmates at the time.  Hopefully they enjoyed the entertainment.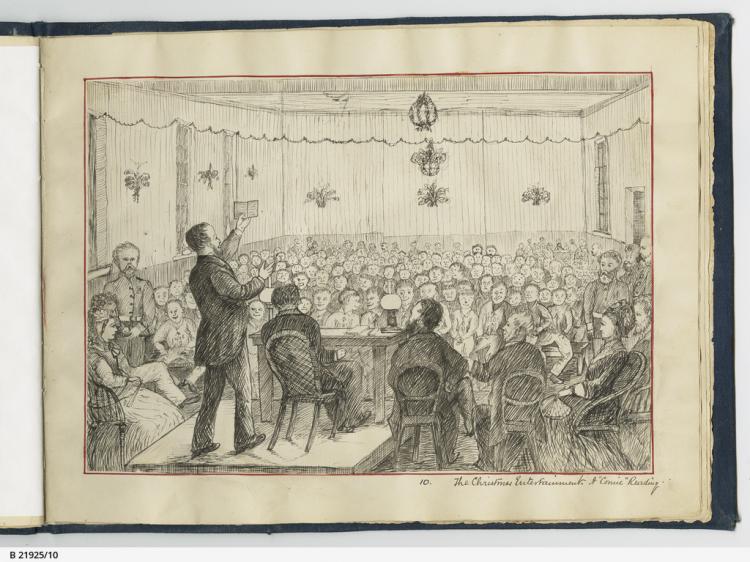 Yatala Prison, 1877. SLSA: B 21925/10
Wars and conflict have always wrenched people away from home. But at Christmas, separation from loved ones must have been, and continues to be, especially tough.
Members of the South Australian military forces in South Africa, 1899, shown having Christmas tea outside a tent. Major FH Howland wearing a check shirt is sitting right, his batman, Frank Cornish, stands behind him.
In 1914 Britain went to war, and so did thousands of Australians. Some were little more than boys, who lied about their ages in order to enlist. They thought the war would be over by Christmas. They were wrong. What became the Great War, later World War One, claimed millions of lives over four long years. This is a postcard from Gallipoli.
Ernest Ferdinand Huselius was born in 1893 at Renmark. According to the Australian Imperial Force (AIF) Nominal Roll records, he enlisted at the age of 21 and was sent to Gallipoli. He survived and was then sent to the Western Front. He was injured in France, although it is not known during which battle. He returned home, married in 1920 and lived until 1968. This card was sent by Ern to his sister.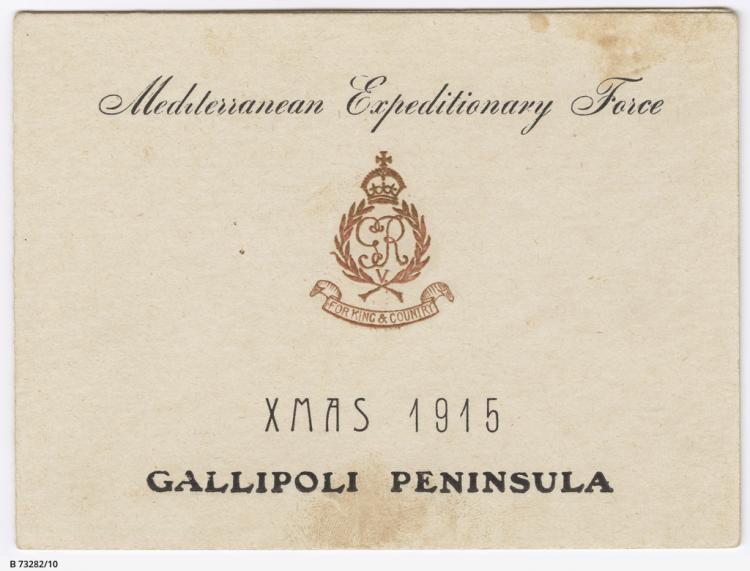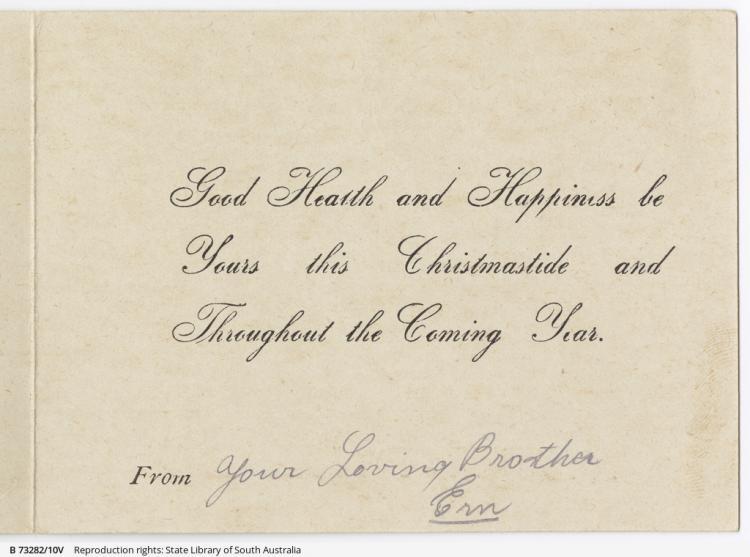 The Adelaide Chronicle published this front page image of an army bugler under the caption 'Christmas 1917' on 15 December.
The Adelaide Chronicle, 15 December 1917, page 1
At home, thousands of women provided parcels for Australian troops and nurses on foreign battlefronts. Later they did the same for hospitals and rehabilitation centres for the returning wounded. They baked fruit cakes and ANZAC biscuits, knitted socks and raised funds to buy 'comforts' like tobacco and chocolate. That tradition continued when World War Two broke out in 1939.
These are some of the cakes baked by "Untie Sis and Untie Ems". They were made for Christmas 1941, and personalised with the full name of each soldier.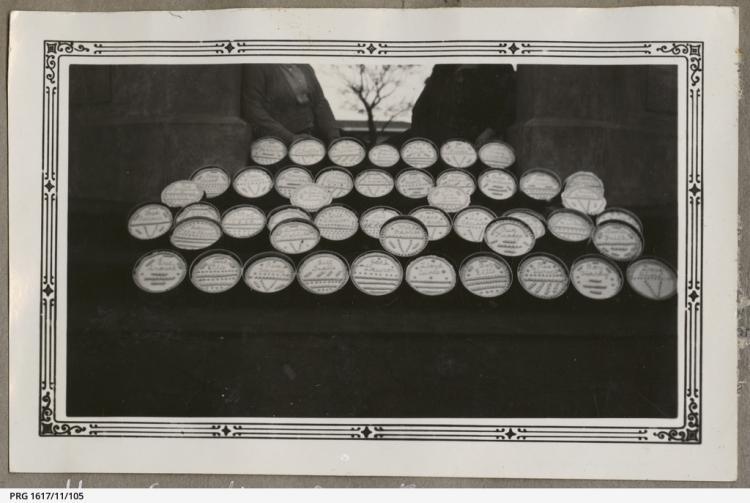 Close friends, family and mates must have been continually in the thoughts of those soldiers and nurses serving overseas. Here are several of their Christmas cards.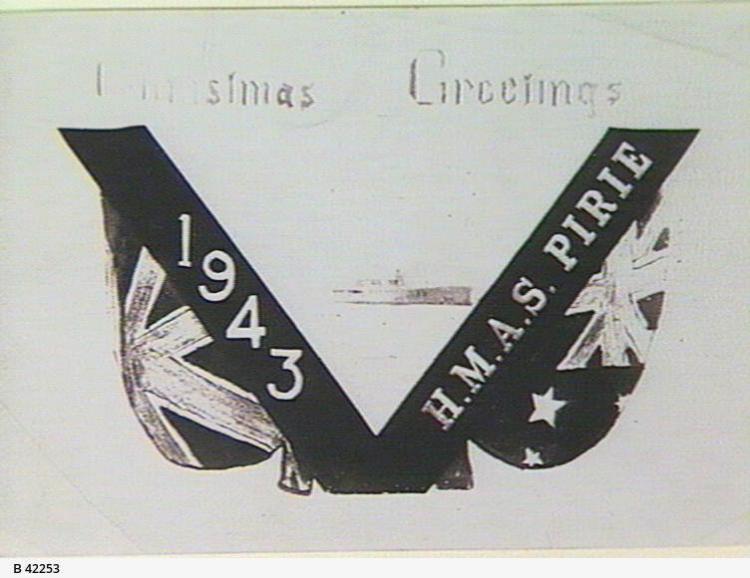 Christmas Greetings from HMAS Pirie. SLSA B 42253
This is a card kept by Maxwell (Max) Roy Venables, 8th Division AIF., while imprisoned by the Japanese in the Changi camp in Singapore during World War II. The card was handmade by fellow prisoner Eric Wilson.
This one was sent from the 2/43 Battalion by Ron Searle to his wife Ina.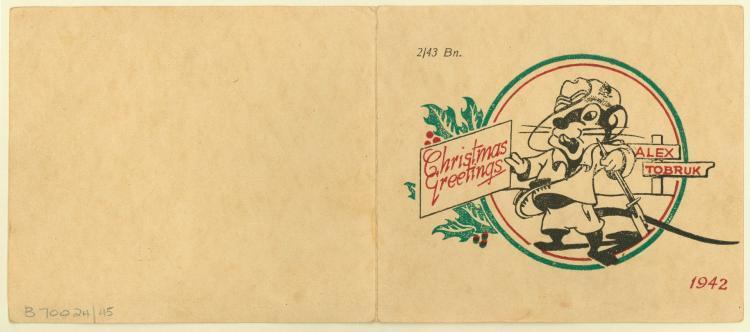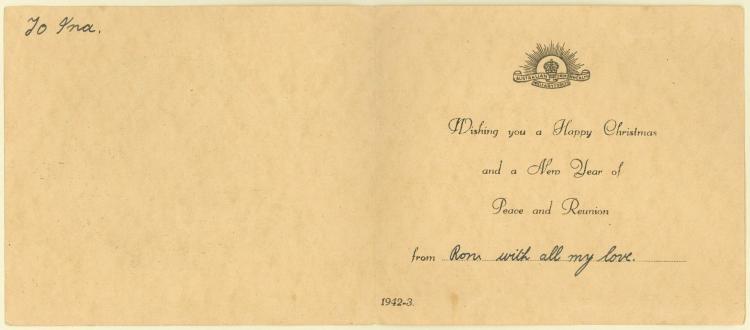 Eighty years later, Ron's wish to his wife for a 'Happy Christmas and a New Year of Peace and Reunion' holds true for us all, whether at home, in isolation, or far away.
Merry Christmas to you all
A nautical themed Christmas card, c1914. SLSA: PRG 337/3/1
Written by Isabel Story, Community Engagement Librarian