Out of the frustration of one man, Gerald A. Savill, came a valuable resource that has helped countless people over the years in their family history quest. The Savill Index of Advertiser Funeral Notices 1971 - 2021, started with an exercise book and a biro. Twenty years later, and many exercise books and a ton of biros, Gerald has passed the baton onto another volunteer, Deb Gard.
In recognition of our valued volunteers we are shining a spotlight on the work started by Gerald and now supported by Deb, along with State Library staff to make available online the Savill Index to Advertiser Funeral Notices 1971 - 2021.
Family History Resources at the State Library
The State Library has a bounty of information to help you to discover your family history. We offer a variety of online resources and have produced a Getting started guide and some top 10 lists covering family history websites, cemetery records, residential records and much more!
But did you know the library holds an extensive range of family history research tools, such as indexes in both print and microform formats, that our dedicated State Library volunteers have been converting into digital resources?
Here Gerald shares his story about how his valuable resource started with a pen and paper to now being online.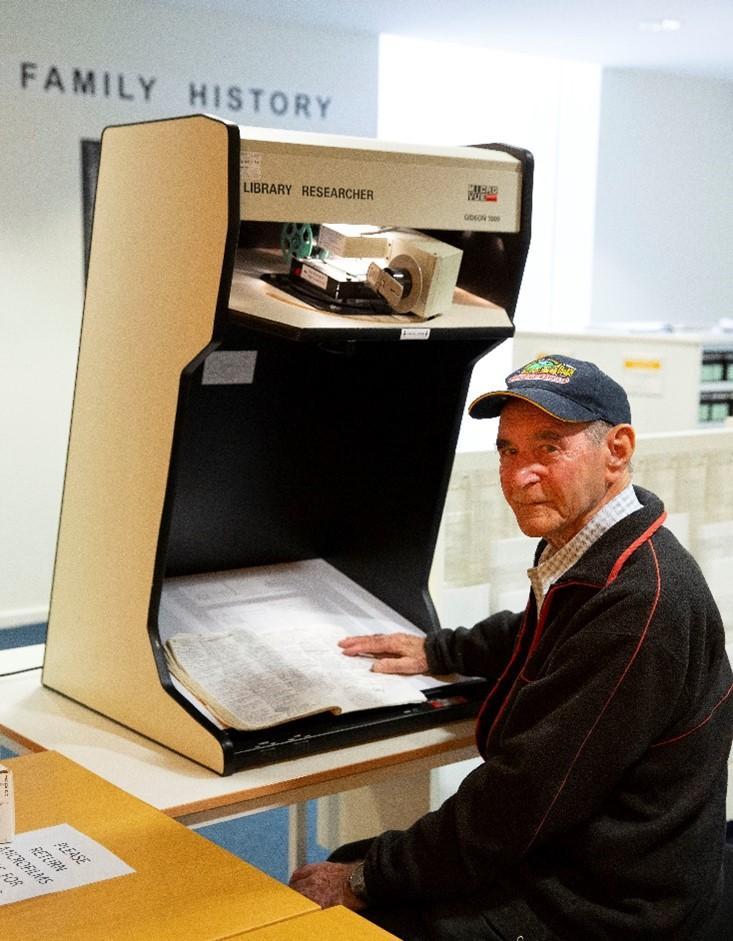 Gerald Savill on the pursuit - using one of the microforms to view the index.
Gerald's story
"What happened was like everybody else searching for deaths, I came to a stop at 1970. There were no records past that time [the official source for Deaths in SA from Births, Deaths and Marriages is only up to 1972 as these extracts from the certificates are embargoed after this date for legal purposes]. I would be sitting there hearing one person after the other, ask staff how they could get death information past 1970. The answer was always the same: the only way is to search through the newspapers [for the unofficial entries placed in the Personal Notices], so that is what I did. I skipped through five years of newspapers from 1970 to 1975 looking for a handful of names. When speaking to one of the staff on duty, who used to patrol around the library offering assistance, I happened to mention I had skipped through five years of newspapers looking for a few names and after using the information from the death notices it led to other names, and I had to go through the same five years newspapers again. I am reasonably sure it was Debra Heidik I was speaking to, and she asked, 'Why don't you get them all?' I remember thinking to myself, how the hell am I going to do that? But that is when I decided to try and get all the names, and the only way I could think of was to handwrite them.
Because I had already skipped through 1971 to 1975, I started from 1976 and persevered until I had completed a year. Then I thought one year in isolation is not much good to anybody, so kept going until I had completed a five-year index. It was purely for my own research at that time, and I intended to just use the scribbled names straight out of the exercise books, but decided to try and type up the names so I could sort them into alphabetical order to make it easier to find the names. I offered a copy to the library for others to use in their research and thought that would be the extent of my contribution to family history.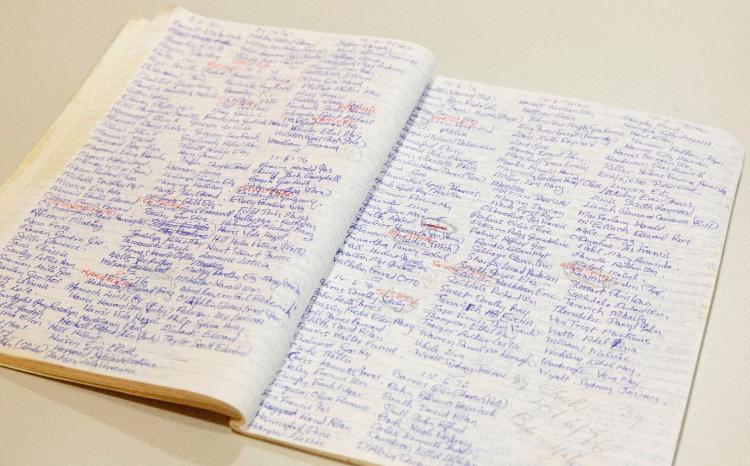 Gerald's original transcriptions – many exercise books and a ton of biros!
By this time, renovations had commenced on the old library and family history was temporarily located in the top storey of another building, accessed by an outdoor staircase. I was going up and Lew [Chapman], one of the staff, was coming down. I didn't know his last name, but Lew stopped as I was almost opposite him and asked if I was going to do any more. He said the five-year index was getting a lot of use. That chance meeting got me started again, and the index went from five to 50 years. 

The compiling of these indexes commenced in January 2001 and approximately 370 days were spent at the State Library of South Australia extracting the necessary information from microfilmed newspapers.

In October 2003 the indexes for the years 1971 to 1990 were completed to fill the gap between the then last released official death notices and a summary of The Advertiser Death Notices for the years 1991 to 1996, which were available on microfiche. The indexes for the years 1997 to 2001 were compiled in the same manner, with the information obtained from microfilm, from which time they were updated daily directly from The Advertiser.

The launch of the index online by the State Library on 7 January 2014 exposed the gap 1991 to 1996 which could not be uploaded, so an immediate start was made to index the funeral notices for those years. On 30 April 2014, the compiling was completed and when uploaded a continuous index, 1971 to 2013, had been created. Compiling of the index continued to 31 December 2020, ending a 20-year project, during which time a 50-year index, 1971 to 2020, containing 468,068 entries had been completed."
Keeping the Index up to date
Cataloguing volunteer Deb Gard continues to work on the Index from January 2021 onwards. Previously, Janet Wilkinson, the library's Coordinator Metadata, was involved in refreshing the index regularly and notices were uploaded annually by Peter Jenkins, Coordinator Digital Assets, at the start of each year. The Index is now being refreshed monthly by Peter to include recent death/funeral notices and enhancements to entries. To aid in identification, additional information such as extended given names and maiden names extracted from death notices, is gradually being added to the index and errors are corrected when identified.
Left to right: Gerald Savill, Deb Gard, Kris Svendsen, Janet Wilkinson and Peter Jenkins
More on the Savill Index
More information can be accessed via our catalogue:
The Advertiser funeral notices / compiled by Gerald A. Savill (catalogue record)
Gerald A. Savill's Advertiser funeral notice index (catalogue record)
Advertiser death notices [microform] (catalogue record)
Index Advertiser death notices [microform] (catalogue record)
Death index [microform] [South Australian Births, Deaths and Marriages Registration Division] (catalogue record)
Interested in Family History research?
If you are interested in learning more about your family history, you might also be interested in exploring the following resources:
SA Deaths in the Births, Deaths and Marriages - library guide
Getting started on your family history - library guide
Family History databases and eResources