The war led to a boom in mass production. Soon there were celluloid buttons for every imaginable support group. And this was just in South Australia. The pattern was repeated across the country. On the Australian home front, a fighting chest was raised through government war bonds and loans. But more was needed. War was declared in 1914 and multiple organisations sprang into gear to raise money and support serving men. Singers, dancers, musicians, actors, artists, and sporting figures donated their time. They staged carnivals, parades, concerts, plays and fancy-dress balls. Regional and city churches held fetes and garden parties, sporting clubs organised tournaments and exhibition matches. Badges were sold by volunteers, mainly women, in the streets, at fund raisers and entertainment venues.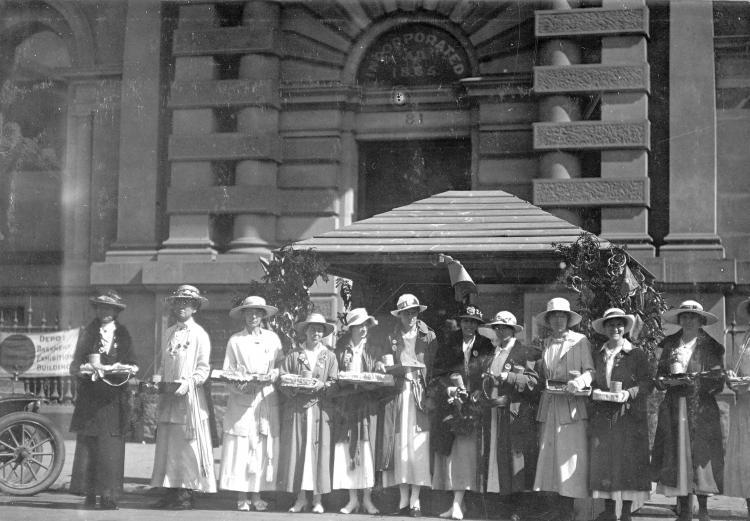 WW1 Badge Sellers, Adelaide. SLSA: PRG 280/1/15/34
Designs developed over time. Some displayed plain lettered slogans, photographic images and some were miniature artworks. They may have been locally designed or more often, designed by artists employed by the manufacturers. Not all badges were metallic or round. Some were made of celluloid or cardboard in various shapes and sizes. This metal stickpin lapel badge was a fundraiser for the Wattle Day League Ambulance Fund.
One of the first producers in Australia was AW Patrick. The company made badges, lapel pins and other memorabilia in Sydney and Melbourne, and also opened in Adelaide as demand grew. Atkinson & Co.  was a similar local manufacturer. Within the Library's archival collection are a number of designs by Dora Whitford (D 8143) who was an artist employed by Atkinson's during and after the war.